Our Services
Dental Implants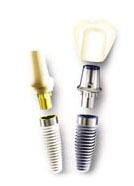 At Agaram Dental Clinic Clinic and Implant Center we provide fear free dental implants

If you are missing one or more teeth and wish to enjoy the confidence of beautiful teeth then you are a candidate for a dental implant. For decades dentists have been offering patients the benefits of dental implants. Unlike traditional treatments of crowns, bridges , root canals and dentures dental implants offer a permanent solution for your missing teeth actually mimicking your natural teeth.

Dental Implants can improve your quality of life

Improve your appearance - Implants can offer you the smile you have lost or the smile you have always wanted

Eat the foods you enjoy - You will eat lettuce , apples, steak and even corn on the cob with confidence and enjoy flavours of your favorite food with less plastic covering the roof of your mouth.

Permanent solution for tooth loss - Only a dental implant can replace the root of missing tooth and eliminate the need for sticky denture adhesives and even for dentures themselves.

Aesthetically Pleasing - they look like real teeth.

Maintain Bone Structure - Implants can help maintain your bone structure and support your facial tissues. They can reduce or eliminate bone atrophy, which causes "shrinkage" or facial cosmetic changes

Alternatives will fail in comparison - Implants eliminate the need for cutting natural teeth to replace one missing tooth and offer a permanent solution, that cannot decay.

Implant however, is not an option for everyone, as it requires surgery, patient should be in good health and further patients must have an adequate bone to support implant. So missing teeth can be replaced with naturally looking stronger materials with the latest advances in technology. Go ahead chew healthy and be healthy!

A dental implant is an artificial tooth root replacement and is used in prosthetic dentistry to support restorations that resemble a tooth or group of teeth.
          


Our Services